Greatest Brazilian Footballers of the Past
Football is a centuries-old game. It's only natural that the sport will evolve as the years pass by, and the names of the players with the biggest contribution will be remembered. It's on the shoulders of those giants that their contemporaries stand today.
Therefore, we will first talk about those all-time greats whose names can't be found on the best UK football betting sites because they no longer compete. However, they have left their mark not only on Brazilian but also on world football.
Ronaldo Luís Nazário de Lima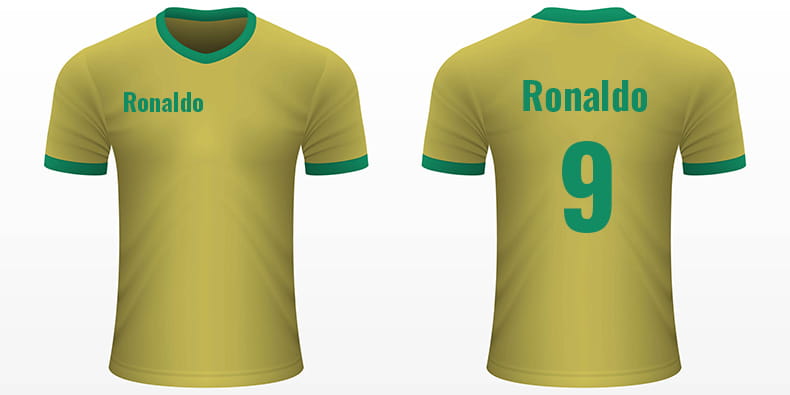 Ronaldo Luís Nazário de Lima, better known as 'The Phenomenon' or just 'Ronaldo', was one of the persons everyone thought would never be surpassed. His early life didn't give him the best start. On the contrary, all indications that Ronaldo will not amount to much were there.
His parents split, he dropped out of school, and he spent most of his time playing football on the street. It wasn't all too hard for Ronaldo to find a professional club to debut, even though he was still far from being one of the Brazilian football players in 1993 when he played his first minute of professional football for Cruzeiro.
9️⃣ Position
Striker
⚽ Matches for Brazil
98
🥅 Goals for Brazil
62
🏆 Accolades
FIFA World Player of the Year x3, Ballon d'Or winner x2
🧑🏽 Nickname
The Phenomenon
He led the team to their first Copa do Brasil that same year. It was onward and upward for him, signing with PSV Eindhoven, then Barcelona, Real Madrid and others. What really cemented Ronaldo as one of the best Brazilian footballers was his time during Real Madrid's Galácticos era.
This was an all-star team where the Brazilians shone brighter than ever. Now retired, the 45-year-old is a football club president of Real Valladolid (playing in La Liga) and the proud owner of Cruzeiro – a club playing in the second tier of Brazilian football. He is also one of the richest footballers in the world.
Edson Arantes do Nascimento (Pele)
9️⃣ Position
Striker
⚽ Matches for Brazil
92
🥅 Goals for Brazil
77
🏆 Accolades
FIFA Ballon d'Or Prix d'Honneur, Golden Ball
🧑🏽 Nickname
Dico, Pelé
By all accounts, Pele is the best Brazilian football player, with giants such as Romário, José Mourinho, and Christiano Ronaldo heaping praises on him. FIFA even went on to label him 'the greatest' for what he had done for football. Here are some of the prestigious titles Pele has won throughout his career:
Named 'Athlete of the Century' in 1999 by International Olympic Committee
On the list of the 100 most important people of the 20th century of Time magazine
Co-winner of FIFA Player of the Century
Guinness World Record holder with 1279 goals in 1363 matches
We can only add to the impressive list of achievements of famous Brazilian footballer Pele. He is a three-time FIFA World Cup winner and, as a true professional, he did a significant amount of the work needed to lead the Brazilian football team to victory.
Pele's goal-scoring contribution for his national team is still unmatched – 92 goals in 77 games. We, as fans, have to also give the legend credit for forever associating football with the word 'beautiful'. Those virtues have forever cemented his spot among the greatest football players of all time.
Rivaldo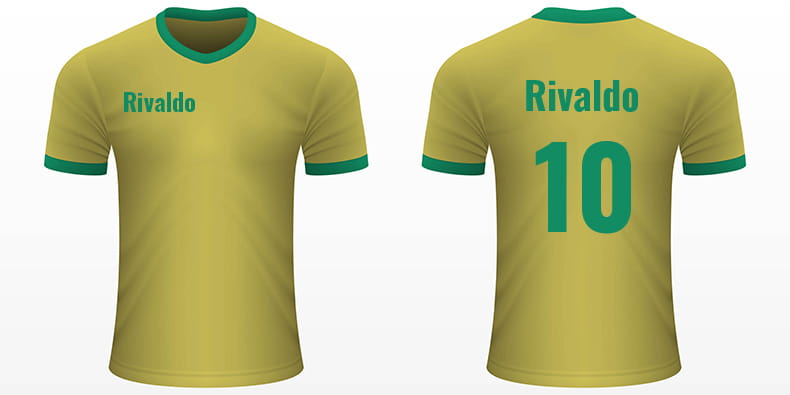 Rivaldo Vítor Borba Ferreira, known to the football world as 'Rivaldo', is another football star hailing from Brazil. His height and dribbling skills made him one of the most dangerous attacking midfielders of his time. Thanks to his ability to play with both legs, he could often be seen on either flank.
Rivaldo had his most memorable years as a Barcelona player. During his time in the club, he scored a mind-boggling 130 goals, won La Liga in consecutive years (1998 and 1999), and also won Copa Del Rey.
9️⃣ Position
Attacking Midfielder
⚽ Matches for Brazil
74
🥅 Goals for Brazil
35
🏆 Accolades
FIFA Ballon d'Or, FIFA World Player of the Year, Player of 1999 Copa América
🧑🏽 Nickname
Rivo
A very impressive showing was also Rivaldo's 1999 Copa America appearance. If the best Copa America betting sites existed, then he would've been the subject of intriguing wagering lines. Rivaldo's staggering knowledge of the game and moves made him a football genius, but was it enough to consider him the best Brazilian football player?
We lean towards a no. As far as matches played and goals scored for Brazil, Rivaldo can't compare to Pele and Ronaldo. Nevertheless, he is one of the loved and most famous Brazilian footballers and definitely a top five.
Romario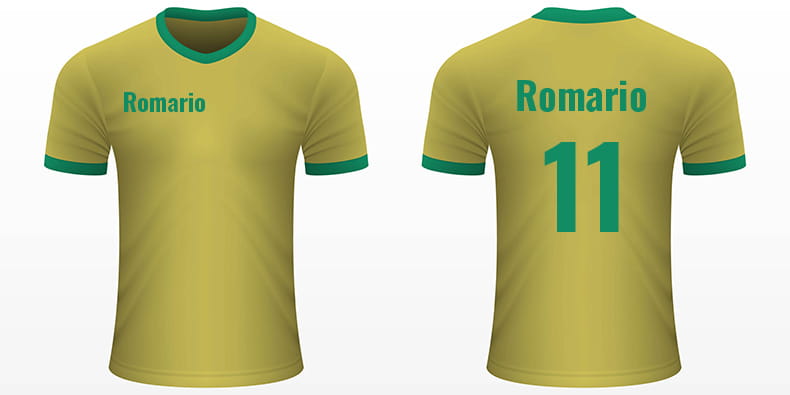 Romário de Souza Faria – now senator for Rio de Janeiro – gained currency as one of the greatest Brazilian players of the 20th century. He was already recognised worldwide by the end of the 20th century, as shown by the FIFA Player of the Century internet poll of 1999, where Romario placed fifth.
Similarly to Ronaldo, he moved to PSV Eindhoven in pursuit of better career development. This turned out to be a great decision because he scored 165 goals in 167 games in Eredivise.
9️⃣ Position
Striker
⚽ Matches for Brazil
71
🥅 Goals for Brazil
85
🏆 Accolades
Ballon d'Or 1994, 1994 FIFA World Player of the Year
🧑🏽 Nickname
The Little One
Nonetheless spectacular was watching Romario defend the colours of Barcelona. He and his best partner in the game at the time, Hristo Stoichkov, gave the world so much to talk about in the mid to late 90s. In 2007 came the thousandth goal in Romario's career, which is a big milestone only a few have reached. The controversy around that achievement cannot overshadow the fact Romario will be remembered as one of the best Brazilian football players.
Cafu
Marcos Evangelista de Morais, or simply Cafu, is the Brazilian to play the most matches for his country, with 142 games to his name in the official records. Though having played so many games for Brazil's national team, Cafu doesn't have many goals or accolades under his belt.
That's because he traditionally played as a right-back and rarely found himself under the spotlight. His prowess as a defender was deeply appreciated in Serie A, where he played for Roma and AC Milan.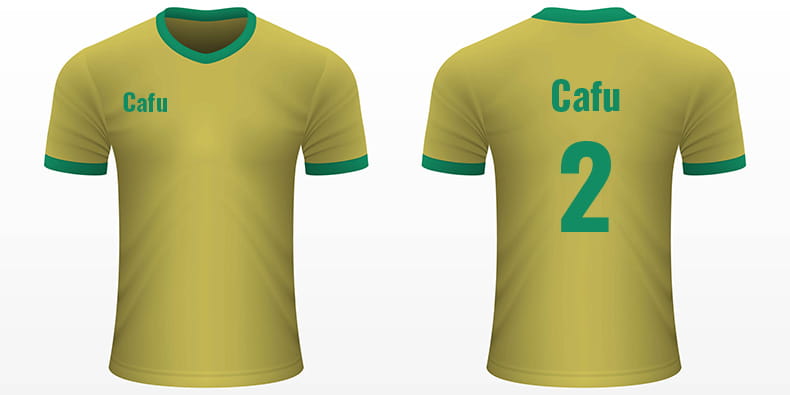 Cafu is the only professional footballer to take part in three back-to-back FIFA World Cup finals, winning in 1994 and 2002. He also represented Seleção in four Copa America editions, two of which ended with Brazil winning the trophy. In 1997 Cafu won FIFA Confederations Cup with Brazil's national football team. To this day, Cafu is considered one of the greatest Brazilian footballers and is one of the most respected legends of the game in his country and Italy.
9️⃣ Position
Right-back
⚽ Matches for Brazil
142
🥅 Goals for Brazil
5
🏆 Accolades
Included in the Ballon d'Or Dream Team
🧑🏽 Nickname
Cafu
Greatest Brazilian Footballers at Present
In the past 10 to 15 years, the international football scene gave birth to many new Brazilian football players who are still active today. They have played for the biggest clubs in the world not by happenstance, but by carving their own path with talent and hard work.
Bringing in new blood from those talented pros was one of the best things that have happened to football. Here are the famous football players from Brazil we are talking about.
Kaka
Ricardo Izecson dos Santos Leite is the full name of the Brazilian footballer, also known as 'Kaka'. Playing as an attacking midfielder, Kaka is best known for his performances for AC Milan and Real Madrid CF.
Those are the clubs where he competed in his prime on the highest football level on the planet. With AC Milan, he won the FIFA Club World Cup in 2007, the Champions League 2006/2007 edition, the UEFA Super Cup 2007/2008, and Serie A 2003/2004.
9️⃣ Position
Attacking Midfielder
⚽ Champions League Trophies
1
🥅 League Trophies
2
🏆 Accolades
Best FIFA Men's Player, 1x Ballon d'Or, 2x Footballer of the Year in Italy, 3x Player of the Year in Italy and Brazil
🧑🏽 Nickname
Kaka
Ricardo Kaka was a vital component of the highly praised four in the FIFA World Cup 2002 edition, including then teammates Ronaldo, Adriano, and Ronaldinho. Though not being all too successful on the World Cup stage, Kaka was admitted to the AC Milan Home of Fame.
Off the pitch, he's done a lot of humanitarian work and even used the power of his social media presence to aid underprivileged people. He is also one of the famous athletes with charities.
Ronaldinho
Ronaldo de Assis Moreira is another exceptional Brazilian footballer, widely known by his nickname 'Ronaldinho'. His dribbling was second to none while he was still competing. His trademark 'the elastico' (flip-flap) toppled many a world-class defender. Ronaldinho was only 20 when he started playing for Paris Saint-Germain from Grêmio. Some years after, in 2003, he signed with Barcelona – where his popularity exploded.
9️⃣ Position
Attacking Midfielder
⚽ National Team Appearances
96
🥅 National Team Goals
38
🏆 Accolades
Ballon d'Or, FIFA World Player of the Year x2
🧑🏽 Nickname
Ronaldinho
The 1999 Copa America and the 2002 World Cup covered Ronaldinho with glory and fame as he was simply unstoppable. He couldn't stop scoring in the 1999 Confederations Cup either, even nailing a hat-trick in the semi-final against Saudi Arabia.
Ronaldinho, Ronaldo, and Rivaldo (the three Rs) not only dominated world football in the late 90s and early 21st century, but they also played for the national team at the same time. At the time, it seemed almost impossible to stop the trio of the best Brazilian footballers.
Thiago Silva
Consistency is the key word that describes Thiago Emiliano da Silva. His 107 national team appearances are not due to a lack of competition for the centre-back spot. Thiago Silva's most deserving of applause ability is to perform consistently.
Something that, sports pundits remarked, is even more obvious under Tomas Tuchel. A true appreciation for Thiago Silva's talent came between the years 2009 and 2020 when he played for three of the biggest European teams AC Milan, Paris Saint-Germain, and Chelsea.
9️⃣ Position
Centre-Back
⚽ National Team Appearances
107
🥅 National Team Goals
7
🏆 Professional Football Appearances
534
🧑🏽 Nickname
The Monster
2008 is when Thiago Silva came into his own as far as national team matches are concerned. He received a lot of praise for outplaying the then FIFA World Player of the Year, Cristiano Ronaldo. Two rough years of international football followed for the Brazilian in 2010, 2011, and 2012 where he had little to no impact.
The years after 2015 were much more successful for the defender, as he was growing in age and experience. Presently, Thiago's main focus is the 2022 FIFA World Cup, where only age can stop him from playing.
Neymar Jr.
Neymar da Silva Santos Júnior or simply Neymar Jr ushered in a new era of spectacular football and mind-boggling – by way of their size – transfers. His inexhaustible goal scoring made him the most desired and, arguably, the best Brazilian football player in the past decade.
It's not the least bit surprising that he stayed in FC Barcelona for quite some time, then left the club for the French side of Paris Saint-Germain. Neymar debuted for Barça in 2013 when he took the place of Alexis Sánchez, and as they say, 'the rest is history'.
9️⃣ Position
Winger
⚽ National Team Appearances
51
🥅 National Team Goals
29
🏆 Accolades
FIFA Puskás Award, FIFA FIFPro WORLD11 x2, in UEFA Team of the Year x2, in UEFA Champions League Squad of the Season x3
🧑🏽 Nickname
Peixe
Representing Brazil in the 2013 Confederations Cup came on the heels of his impressive club football performance that year. The tournament had a happy ending for Neymar, ending in a 3:0 win for Brazil's side in the finals against Spain.
Three games in a row, the young phenom scored and won the title Player of the Match. Only three years later – in the 2016 Olympics in Rio, Neymar Junior sealed the win against Germany in the final with a penalty kick.
Hulk
Givanildo Vieira de Sousa's nickname 'Hulk' comes from the stunning resemblance between him and actor Lou Ferrigno, an accomplished bodybuilder. Brazilian striker Hulk didn't have the smoothest of starts to his career, flying back and forth between Brazil and Japan for a couple of years.
The Brazilian finished 2007 as the top goal scorer in the second Japanese football division, and that effort was not left unnoticed. The next big step in his career was Portugal's Porto, who signed Hulk after a €5.5 million contract for only 50% playing rights.
9️⃣ Position
Forward
⚽ National Team Appearances
49
🥅 National Team Goals
11
🏆 Accolades
Russian Super Cup 2015/2016, FIFA Confederations Cup 2013
🧑🏽 Nickname
Hulk
Givanildo Vieira de Sousa isn't the most productive addition the Brazilian side has had. We can add a five-year exclusion to his controversial performance, during which Hulk didn't wear the yellow jersey.
The football fans look much more favourably on his club football performance and the thundering shots he's delivered outside the box. Those surfing the internet in search of celebrity news might be more familiar with Brazillian footballer Hulk's wife than anything else he'd accomplished before his marriage.
Frequently Asked Questions
New versus old always brings us interesting lanes of comparison. We offer several more questions and answers to help you form an opinion in your head of who the best Brazilian footballers are. Find below what people are asking about the most famous football players from Brazil.
1️⃣ Who is the best Brazilian footballer?
It's a tie between Ronaldo and Pele. They enticed generations with their magical football and, at the same time, have the numbers to back up.
2️⃣ Who is the most famous Brazilian football player?
The most popular Brazilian footballers list includes the names Ronaldo, Rivaldo, Ronaldinho, Kaka, Pele and others. Between 2015 ad 2022, the most popular football player from the country has been Neymar Jr. – a talent every big club wants to have.
3️⃣ Why are Brazilian footballers so good?
Players, the likes of Rivaldo are gifted with the ability to play equally good with both legs. Some of the best in Brazil's national football team start playing on the street at a very early age and have all the time in the world to develop their skills and become feared, goal scorers.
4️⃣ Why do Brazilian footballers have nicknames?
It's funny how even Brazilian forward Hulk is known by his nickname rather than by his full name Givanildo Vieira de Sousa. His nickname emphasizes his muscular physique and strong surges with the ball. Givanildo Vieira de Sousa also looks a lot like Lou Ferrigno – the bodybuilder and actor who played the Incredible Hulk.
5️⃣ What Brazilian footballers are born in August?
Football players Ederson, Willian, Osasco, and Jadson were all born in August. Was the best Brazilian football player born in August, though? Probably not, because none of these players makes claims to be the best. A good example of a football superstar from Brazil who wasn't born in August is Ricardo Kaka.